Ivan Jenson, a celebrated pop artist of New York City, moved to Grand Rapids, Michigan, where he experienced success as a published poet and novelist. Ivan has close to six hundred poems published internationally, online and in print, as well as a book of poems and several successful novels including Marketing Mia, Dead Artist, Erotic Rights, and Seeing Soriah. Gypsies of New Rochelle is a fictional memoir loosely based on Jenson's own family who he calls the "original gypsies of New Rochelle"
AM: You were known for your work in the world of pop art before that of literature. How long have you been writing?
Ivan: I had my first poems published in Indiana when I was a teenager. When I was thirteen my parents sent me to Costa Rica to study sculpture and I would write letters home describing that vivid summer. My mother was so impressed by my writing style that she suggested I write my first novel. She said, "Just pretend you are writing us a very long letter." So I wrote my first novel at fourteen.
It was a coming of age story called, Walking Wounded and it was based on my time spent in San Jose where it rained every afternoon. An editor at Delecorte Press called that manuscript "raw and brutal". I wrote some screenplays in the 90s.
I took up writing full time when I moved from New York City to Grand Rapids, Michigan where I joined a local writer's workshop. Shortly after that a girlfriend who was a poetry lover suggested I submit my poetry to literary magazines. I did not heed her advice for months then one night on a whim I thought I would give it a try and sent off some poems by email. I forgot all about it and then a few weeks later all the poems were accepted by three magazines. So I submitted more poetry, and every time my poetry was accepted.
In fact in the first three months I was published by some of the top ten literary magazines in the country, including Word Riot. Meanwhile I had already begun to feverishly and diligently write novels. I now have over six hundred poems published online and in print worldwide.
I've had a book of poems and five novels published including, most recently, Gypsies of New Rochelle.

AM: Where you a big reader as a child?
Ivan: I read mostly poetry as a child. I didn't bother much with recess. Instead, I would hideaway at the library and read Carl Sandburg's poetry for his gritty conversational tone and I loved the musicality and lyrical quality of Dylan Thomas' poetry. I would often listen to a recording of Dylan Thomas reading A Child's Christmas in Wales. My father was a professor of comparative literature at UCLA, and he would patiently explain poems to me, line-by-line. He even gave me his analysis of Bob Dylan's Mr. Tamborine Man. I was instantly enthralled.
AM: Which writers inspire you?
Ivan: To be perfectly honest this whole new epoch and era in my creative life began when I read Odd Thomas by Dean Koontz. I saw how prolific and freewheeling he was with his literary gifts. I wanted to emulate that. I wanted to twist and turn my life into thrillers and comedies. I have also enjoyed the writing of Philip Roth and Jack Kerouac. From these novelists I learned how to work out the personal issues of my life and transform them into tangible tales. I also use humor to draw the reader in.
AM: Has a piece of writing (one you've read, or written yourself) ever made you cry?
Ivan: My mother was a great inspiration for my writing and was my first editor. She recently passed away. She inspired this sad poem that I wrote:
Warning Label
Don't ever love
someone old
because they will
teach you
important lessons
about how to
wring out a rag
or they might tell you
simply
never to wear
a faded T-shirt
and then they will
recommend a movie
starring Judy Garland
just as you are heading out
to get something out of life
the problem is they are
made of frailty
yet they tell you to be strong
and then after you walk them
to the baker at the grocery store
you might inadvertently escort them
to their maker
and then they will be
no more
AM: What about laugh out loud?
Ivan: Here is a funny poem that I wrote which was turned into a short film.
Note to Self
last night I woke up
enlightened in the darkness
by a single sentence
which revealed the essential mystery
of it all
I vowed to tell the world tomorrow
but when I woke up in the morning
I realized
that damn it
I should have written it down
AM: For you, what's the difference (if any) between the creative process in visual and written art?
Ivan: My writing by nature is narrative, my painting is not. In my visual art I primarily and stylistically depict the face and the figure. I am a self taught writer and painter. In fact the only thing an art teacher ever taught me was how to depict eyes. And so capturing a captivating look in the eyes is my forte. My art is an expression of humanity in wild pop art color. When I was at a 12th Street bar in New York City, the publishing tycoon Malcolm Forbes and his friend Phyllis Diller spotted me drawing with a black marker on the the back of a white T-shirt which a beautiful Ford model was wearing and he quipped, "you're better than Picasso!". We became friends and he invited me on his famous Forbes Highlander Yacht to sketch in my pop art style all the corporate CEO's of the world, as well as luminaries like Buzz Aldrin. Malcolm Forbes commissioned me to paint what would become his last portrait. I also created my Absolut Jenson paintings which depicted the iconic Absolut bottle for their international ad campaign.
Now with my writing, I am taking the outrageous circumstances that I experienced on the East and West Coast as well as in Middle America where I was put through the emotional ringer. I am transforming my turbulent past and giving it structure and a story arc. I am setting down the sometimes funny, sometimes shocking dialogues that I have heard and been a part of, as well as setting down my incessant inner dialogue. And each day I mine the burning hot, rich crude oil of time and make it into timeless literary energy on the page. While my art is more like snapshots of aesthetic beauty as seen through the color wheel of my graphic perception.
AM: Taking the question further -how broad is the distinction between the crafts of poetry and prose in your eyes?
Ivan: I divide my literary craft between short form poetry and long form novels. I feel that my poems are like instant songs. I create a kind of word melody the reader can latch onto by making sure my poems have a catchiness to them. I do that by employing a twist on the phrases that we hear all the time. I make the colloquial humorous and fresh. I do this by making my poetry readers laugh at what might otherwise make them cry. Humor is my sharpest tool.
In my novels, I take truths that I have lived and seen firsthand and transform them into unique high drama thrillers. Or in the case of my more personal comic novels, like Gypsies of New Rochelle, I capture the feel, the fun and edginess of my own family as well as those who crossed my path on the East Coast.
AM: Do you have a favorite poem?
Ivan: My favorite poem, is by Dylan Thomas called, The Force that through the green fuse drives the flower.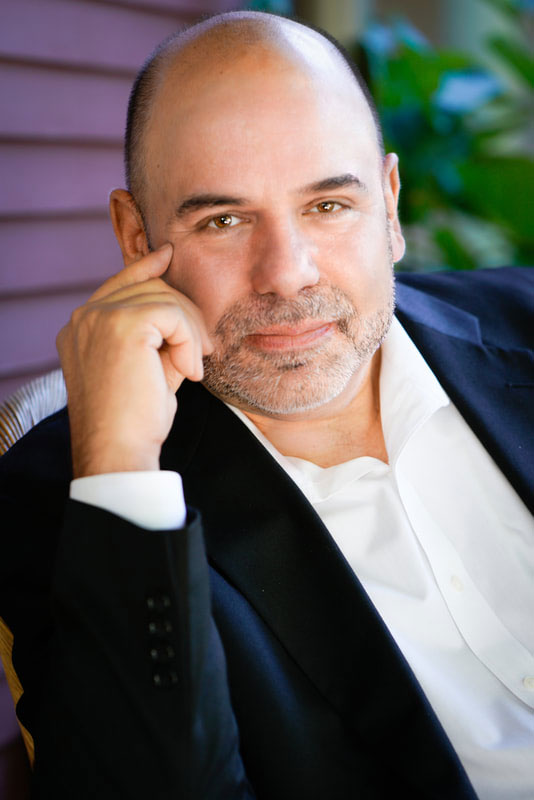 AM: What made you decide that you wanted to turn the Gypsies of New Rochelle into a novel?
Ivan: I first was inspired to write it as a family drama screenplay. A few major film companies showed interest. Tired of waiting, I took the bull by the horns and decided to write the novel. Gypsies of New Rochelle is what you might call, "high intensity nostalgia" because when my family first moved from small-town Bloomington, Indiana, to New Rochelle, New York, more edge of your seat scenarios happened to me than at almost any other time in my life. In the early 80s when the novel takes place, my violinist sister Dylana really did debut at Carnegie Hall. Meanwhile I was busy experiencing the urban rhythmic pulse of New York City. I had so many coming-of-age misadventures as well as fantastic frustrations that I knew one day I had to set it all down. In the writing of Gypsies of New Rochelle I allowed true life events to take flight into moments of magical realism. There is a scene with a home made hang glider that really soars. New York City for me in 1980 was dusty, mystical and it was also a concrete maze of amazement.
AM: The story of the Aldridge family is loosely based on the history of your own. Can you pinpoint in what respects?
Ivan: My family really did suddenly pick up and move from Bloomington and migrate by car to a house on a hill on Pinebrook Road, New Rochelle, overlooking the picturesque Beechmont lake. My sister really was a famous violin prodigy and my father was her first brainstorming manager while my mother was a highly emotional stage mom. My brother was always writing notebooks on physics and so I created a metaphor for him and made him an inventor. I really did go out with a beautiful blonde New Rochelle girl that I met by that lake when I was seventeen. We really did fall into snowy Christmasy love.
The manic and somewhat maniacal, yet lovable manager Kerry Casey was based on a music manager of my sister's who was for better or for worse my sarcastic and sardonic cocaine-infused life advisor. He taught me what it meant to both sneer bitterly at the world and yet love everybody like they were all your babies. He would call all his clients his "babies." Me included.
AM: Is Shawn a stand-in for you? What headspace did you occupy to give his character life?
Ivan: Yes. I knew that Shawn (Holden Caulfield style) had to narrate the novel in the first person. He is a winsome seventeen-year-old full of confidence and confusion. Women love him and he does not shy away from the sensual opportunities they offer. Most of all, Shawn is infatuated with his own vivid, technicolor family. He is ambiguous about going through the rite of passage of leaving home because his home life is so much like an over-the-top operatic soap opera. I believe that those years in New Rochelle were some of the most memorable times in my life. I knew even then that my family was unique, and I wanted to share it with the world.
AM: Your use of the word "gypsy" is an interesting choice of a title. Why did it fit?
Ivan: When I was a teenager my brother often took me aside and told me that we were "gypsies" because we would come into town, in our caravan of cars set up our tent of dreams and proceed to sell our elixirs of artistic talents to whomever was buying. New York City celebrated us when my sister first uncorked her champagne-like musical abilities. She was the toast of the classical world for a time. And the rest of us were left to bask or burn in her reflected glory.
AM: How long was the writing process? Did the finished product look markedly different to your first draft?
Ivan: This novel took a bit longer than any of my others. It took a little under a year. It is possibly my most expansive and painfully honest novel, even though I took many liberties with the truth. I included many of the legendary family stories like when my parents traveled on the Orient Express in the hopes of exchanging their US currency for big profit at a bar they had read about in a Hemingway story. I took some tragic figures in my extended family and allowed them to triumph as heroes. This is certainly the case when it comes to the pivotal character Pito, the lost cousin who must be saved from a most unusual cult of people with shaved heads.
Writing the first draft of Gypsies of New Rochelle felt exactly like I was sitting around the campfire with the reader and I was telling an unforgettable tale of what it felt like to be young, ambitious and naive and to be set loose on the streets under the sharp edged skyscrapers of the mean machine which was Manhattan in the early 80s. I tried to retain the freshness of my first draft in the final version.
AM: Have any members of your family reviewed the book yet?
Ivan: My older sister and her husband read the book. She said it was quite something to see all the family legends in a fantastic mash up. She told me she had to let go of what really happened and accept my alternate universe. I am quite a prolific writer and so I am waiting for my other brothers and sisters to catch up with my literary productivity. One of my brothers, Peter, has read it and loved it (especially the hang gliding scene since he was once an avid hang glider.)
AM: How do you feel you've evolved creatively in the last ten years?
Ivan: Not since I experienced the instant overnight success in the East Village art scene with my paintings in the mid-80s have I transformed myself so successfully. Here in Grand Rapids, in less than ten years I have completely reinvented myself as a widely-published poet and novelist. I feel that I have not only transcended my life experience, but I have carved an entirely fresh path for myself. I feel privileged to have been able to take the most difficult experiences and mostly heartbreaking romances and made something of them that can entertain, shock and move my readers. At this point my new literary career has pretty much eclipsed my visual art. Every day I find there is so much more that I must set down in words.
AM: What advice would you give to aspiring writers?
Ivan: I believe that it is never too late to start writing. Writing novels is kind of like both telling on others and telling on yourself. I think joining a writer's group is a great way to go 'live' with your writing. You can sense by osmosis if your latest pages have what it takes. I believe writing absolutely every day (which I have virtually done for the past nine years) is key. You are only a writer when you write!
AM: What's next on the horizon for your writing?
Ivan: Many people have suggested that I write my memoir. And that is what I am doing! It's a jam-packed hypo-manic word musical. In writing it, I have discovered that one thing that has tied my life together is that a higher force has rescued me from ruin every time my life almost went over the edge. Also I see now that if my life has been anything, it has been funny. And you know being funny is quite alright with me! I hope to see one of my dialogue-driven screenplays turned into a movie. I also have completed a few more novel manuscripts that have yet to be published. One is the story of formerly famous smooth jazz saxophone player who does not realize his own powers, and the other is about a man who will soon lose all his mental capacities, but before that he goes through a wonderland of twisted and twisting experiences he must make sense of.
Interview by Olivia O'Mahony
---
Photo of Ivan Jenson by Eric Bouwens.