Ever since beards started gaining popularity a couple of years back, more and more men began to explore their masculinity and see what they would look like if they let their beards grow. Some guys, on the other hand, just waited for this moment to come so that they wouldn't have an excuse to shave their beards and grow a bush like Moses had.
However, as soon as they grew their beards out, they realized that it's not actually that simple. Growing a large beard means that you will have a monster on your face which has a mind of its own. What kind of men would we be if we didn't know how to control this creature on our own? You can tame your beard with a bit knowledge and effort in no time.
Today, we will give you all the advice you need to control your beard and make it look the way you like it.
Choose the right beard style

We all have different faces and facial skin. This means that not all men can pull off a good look with a certain beard style. If you have a narrow and long face, a full beard might be the best way to go. Still, a lot of people think that having a full beard means letting it grow equally on all sides.
For example, if your face is thinner, you can let your beard grow a bit long on sides and shorten it on your chin. On the other hand, if you have a short face, you will definitely want a pointy beard as it will make your face look longer. Additionally, it can help people with round faces get a narrower look.
This is done by cutting more of the beard on the sides and creating a pointy shape. People who have a more square face have the option of wearing short beards, as they appear more masculine with them. Also, make sure that your beard fits in with your current style.
Get the tools and products you need

Even during ancient times, humans had tools they used to groom themselves, so if you are only down to an old razor and blunt scissors it's clear why you are having a tough time controlling your beard. The first thing you need to do is to find shave so that you can shave your beard and start from scratch.
A lot of bad shavers can cause hairs to get wrapped around each other. On top of that, they can irritate the skin and cause a lot of pain as your beard grows. The next thing you need is a beard trimmer which you will use to shape your beard the way you want to and make it look good, which is why this tool is so valuable.
There are lots of different models available so do your research and follow advice from a trusted source, like Groom+Style, that actually tests the different products.
In the end, make sure to buy beard and skin care products such as a beard conditioner, beard shampoo, beard soap, and beard oils. All of these products have positive effects on the beard and help protect the skin from irritation while making your facial hair soft and clean.
Take your time and maintain your beard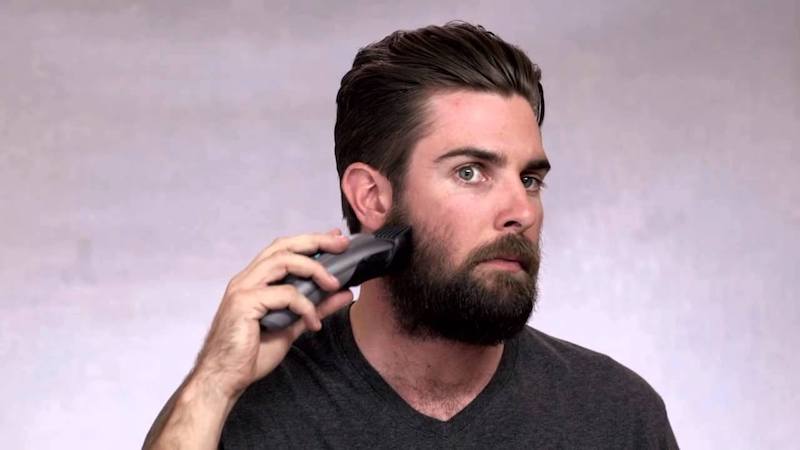 After you start growing your beard, you shouldn't touch it for about three to four weeks, depending on how quickly it grows. Let your beard do its thing and don't touch it until you've developed an actual beard. After this period has passed, you can start off by trimming and shaping your beard slowly into what you want it to look like.
Next, make sure that you wash it regularly with your products and that you put oil on it to make it strong and soft while at the same time protecting your skin. Some people take the product to use too seriously and wash their beards every day.
This is a mistake, as you will remove all the natural oils that are healthy for your beard. With regular maintenance and trimming, you can get the beard you always wanted and make it completely manageable.
Stick to the things that we mentioned today and after a while, you will see how easy it is to manage your beard! You will only need a bit of time and practice and soon beard management won't even seem like a task, it will come naturally.