In a world where everyone from street buskers to megastars consider themselves a "performance artist," it leaves an intelligent mind to question what exactly that means. It's a mysterious term reserved for those rare artists that in some way defy categorization but captivate us through their creativity.
They are the stand-out focal points of an artistic culture that prefers to be impressed rather than merely entertained, Matthew Marcum is one of those people. With a resume consisting of critically acclaimed performances pieces, recording projects, and literary works, Marcum comes off as a part maverick and part mystic, not unlike the subject of his current one-person show Jackson Pollock: A Frequency Parable. Created and performed by Marcum and produced by long-term collaborator Shannon J. Spencer, Pollock: A Frequency Parable marks the first nationally touring project for their production company The Unconventional Empire.
It premiered at CounterPulse in San Francisco as part of the New Experimental Works Festival and was followed by a critically acclaimed turn in the St. Louis Fringe Festival, where it won the award for Artistic Innovation. With anticipated showings at the Asheville North Carolina Fringe Festival, followed by a Los Angeles premiere in February, Marcum discusses his show and the future of an empire.
AM: Let's begin with Pollock: A Frequency Parable. How would you describe the show and why do you think it has been so successful?
Matthew: Pollock is a unique show. It's a sound performance piece that weaves together direct quotes from Jackson Pollock with experimental live vocals that are inspired by his creative process. Pollock used elements of improvisation, rhythm, scale, tone, and volume in his visual work, which is what I explore with my voice on stage. It's set against an electronic soundscape with rave-lighting and abstracted representations of Pollock's work projected as a backdrop. I think the reason audiences have responded so well is because it's something interesting that they probably haven't seen before. It's a solid piece that has a little something for everyone to enjoy.
AM: How do you relate to Jackson Pollock personally? It seems there is a kindred spirit between the two of you and the work you produce. Has Pollock always been an inspiration?
Matthew: I have a deep and profound admiration for his work, and I can see similarities in his creative process with my own, so, artistically, I think there is a kinship in some way. Personally, as people, I don't know if we have a lot in common. He battled alcoholism and depression and was prone to violent outbursts and fits of rage. He was a much more complicated guy. But what I find so inspiring about him personally is that regardless of his issues he searched for beauty in the midst of madness. When he couldn't see it, he created it. He's legendary because he saw through the chaos into something more profound. He changed the way we make and view art. In a way, he set it free. I find that to be inspiring.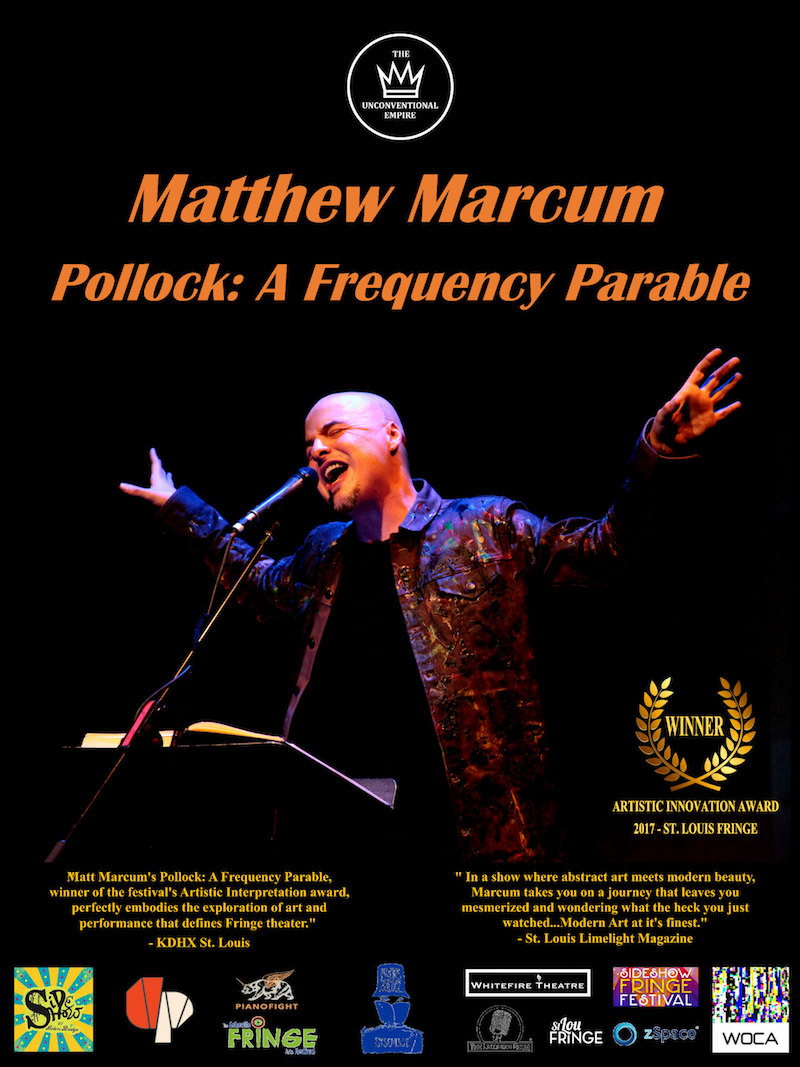 AM: How did you establish The Unconventional Empire and what was the ultimate goal of forming your own production company?
Matthew: The Unconventional Empire is a platform for artistic collaboration and project development. It's a multidisciplinary think-tank that allows me to expand my work while being able to take on projects in different areas outside of performance. I formed the framework of the company with Shannon J. Spencer who has been my production manager since 2012 and has worked in various capacities on almost all of my projects since then. We like to joke that's it's a small company with a big name, but we take a significant amount of pride in the work that we deliver, and a lot is happening right now. The ultimate goal was to create original work with people that I admired and respected.
AM: Can you talk about the upcoming projects you have in store for 2018?
Matthew: We are continuing to tour "Pollock" with dates planned throughout the beginning of the year, and I'm developing a new show that will premiere in summer as part of The Nashville Sideshow Fringe Festival, which is essentially home base for us. I'm excited about a string of upcoming projects that will allow me to collaborate with some great photographers and videographers for some online campaigns they're working on. We have formed partnerships with some excellent organizations and have exhibitions scheduled later in the year that center around mindfulness and meditation. It's all very cool and exciting right now.
AM: What do you see as the future of The Unconventional Empire?
Matthew: I think we want to keep things small but grow as much as possible. What's been rewarding is that by having this kind of platform we have gotten to work with some fantastic people who are doing some great things all over the country. It's an exciting time right now; there's so much opportunity out there for independent artists to blaze their own trail and define their own standards for success. I've been really impressed by the integrity and innovation of a lot of the people we have collaborated with this last year. To continue fostering those relationships and building that community is the plan.
AM: So to build an Unconventional Empire?
Matthew: Pretty much.
Interview by Daniel K. Lee
---
Matthew Marcum's Pollock: A Frequency Parable, produced by Shannon J. Spencer and The Unconventional Empire opens this weekend as part of The Asheville Fringe Festival. For more information visit www.matthewmarcumofficial.com