Sunglasses have been cool for as long as you or anyone else can remember, and for good reason. Everyone from sports brands to fashion houses emblazes their logo onto the side of pair and ships them out for up to hundreds of dollars a pop.
Turns out those expensive shades are worth way more important to your eyes than simply hiding them from the shade, they're protecting and conditioning your eyes for harsh light more than you know. You may be thinking you could just pop on a hat to shield your eyes from the sun, but it doesn't really work like that. The hat or good old-fashioned cupped-hand covering won't stop sun and UV rays getting into your eyeballs.
You're going to need some nice shaded specs (see: hater blockers) in order to protect your eyes adequately from what's certain to be a ridiculously hot, but most importantly, bright summer.
Protect yo' Retinas
Your retinas are arguably the most sensitive part of an already extremely sensitive part of your body, and your sunglasses are protecting them. There is a layer of ultra light-sensitive nerve tissue in your eye, that can possibly deteriorate with age, the process is called macular degeneration. The photoreceptors in your eye are protected when you have glasses firmly framed on your face.
Everyone eventually will develop some relatively light clouding of their ocular lens or better known as a cataract. Protecting your eyes from the sun using, oh I don't know, sunglasses, for example, will help slow down this process. Believe it or not, skin cancer of the eyelids is also a thing, so bring the sunglasses.
Which Ones to Get
As it turns out, darker lenses are not actually better for your eyes just because they're darker. Make sure whatever the lens looks like, it's both protective against UVA and UVB rays. Most are, but somewhere on your glasses or the packaging for them should say it. Polarized lenses are particularly helpful if you're trying to reduce the glare of the sun off of another surface, but mostly it doesn't matter.
TO get you started, I've compiled a list of some starter specs for you to start out with from various vendors. All of the specs listed here are relatively high-end and are guaranteed to protect your eyes from those beautiful but potentially sinister rays this summer, especially for those mornings following your typical summer celebration.
These sweet metal frames with polarized 100% UV protection will keep your peepers sun free, and look good doing it. The frames are cut from a single sheet to maintain perfect color polarity and made with CR-39 for best possible clarity and color. You can even get them prescription, and they'll come with an impact resistant, anti-scratch coating too. You can't get much better than this for the price.
Rag & Bone: Byron $185
These geometric square frames feature an exposed core with a polarized lens flare resistant coating for the lenses. These say to everyone that you're dressed well, you know it, and you're ready to hit the beach or boardwalk. Pair these with a floral or hawaiian print and a great summer cologne you're looking and feeling super fresh.
Saint Laurent: Round Gold-Tone $280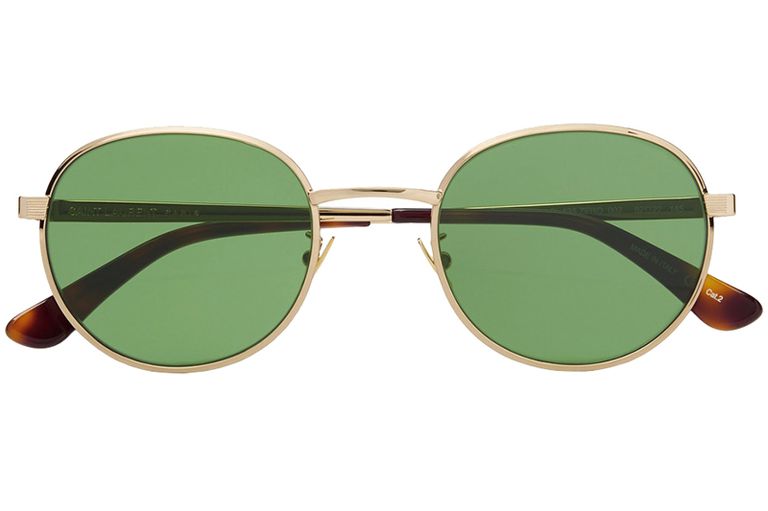 Worth the price. When it comes to gold tones and tortoise-shell coloring, Saint Laurent has you covered with these old-school retro frames, well suited for those of us with angular faces. There are super smooth nose pads for low imprint and extra comfort and come equipped with both UVA and UVB 100% protection.
Protecting your eyes is every bit important as it is cool, so make sure when you do it, you do it with style. Use this list as a guide to get into higher-end frames if none of these in particular do anything for you, but whatever you do, stay away from the $5 dollar rack at your local shop if you want your eye protection guarenteed.