The Weeknd, the Grammy-winning singer known for his musical hits as well as his celebrity girlfriends, has entered into the world of fashion with a bang.
This week he lands on the cover of Harper's Bazaar's 150th Anniversary issue alongside models Adriana Lima and Irina Shayk.
Styled by the eponymous fashion editor Carine Roitfeld, this marks the singer's first cover for the publication, and none other than their Fall Fashion issue.
In the magazine's inside spread, the 27-year-old Canadian-born singer is pictured alongside model Candice Swanepoel, where they appear with other notables such as Courtney Love, Miranda Lambert, and Dionne Warwick, to name a few, in the Icons Unplugged feature.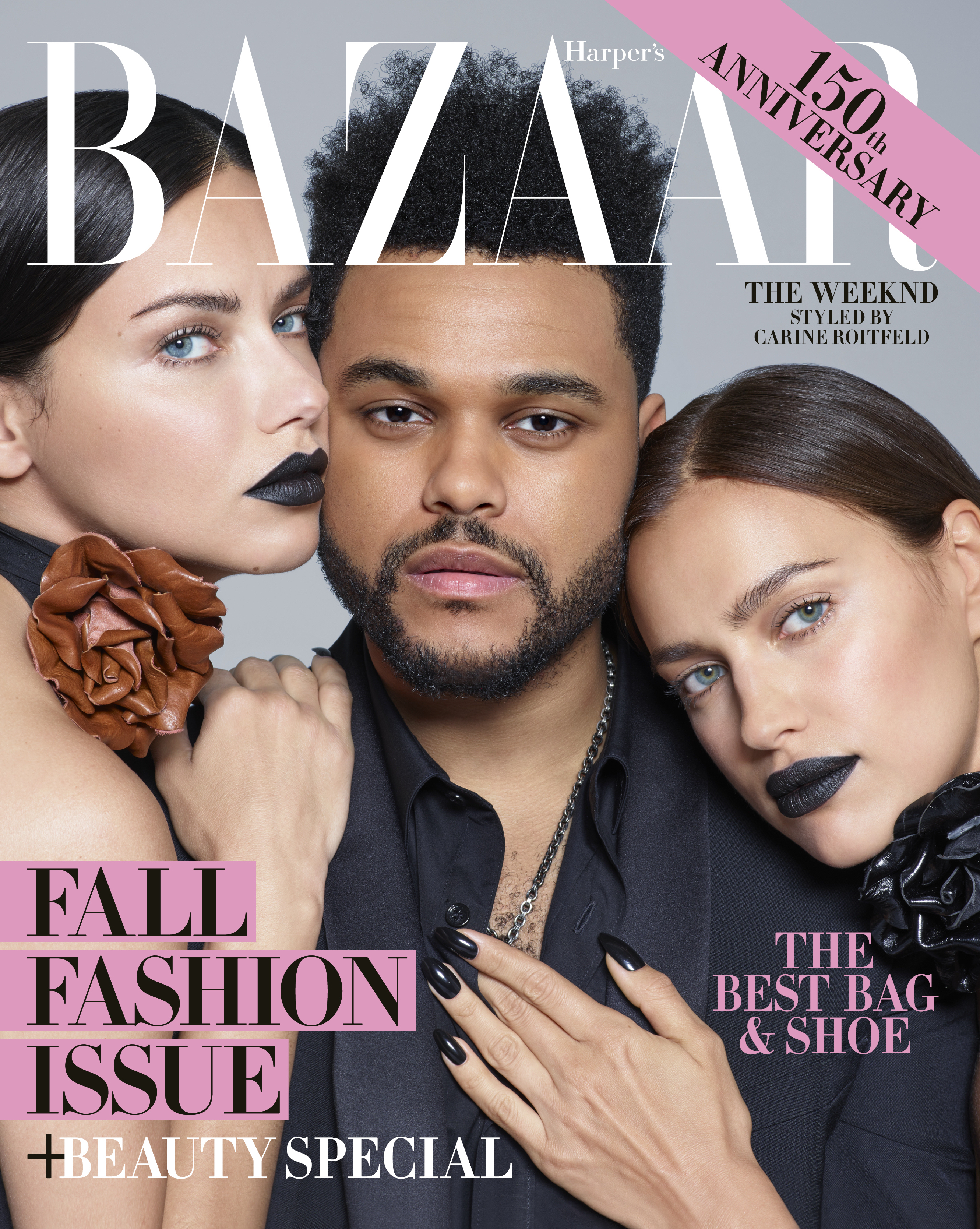 This isn't The Weeknd's only foray into fashion right now. The singer (and current boyfriend of Selena Gomez) just released his first signature sneaker, the Puma Parallel, a collaboration with the brand, aptly titled The Weeknd x Puma.
He has high aspirations for the shoe too. In an interview with Footwear News, he said
I just want to see everyone wearing it. I want it to be part of pop culture. I want to walk down the street and see kids wearing it and women wearing it. I want to see the Pope wearing it. I want to see Barack Obama wearing it. I want to see Elon Musk wearing it.
Those are some lofty goals for any designer, let alone someone who is known for their musical talents and not their fashion accomplishments.
The singer has been a brand ambassador for Puma since September 2016, so he is a loyal fan of the German-based athletic line.
The sneaker, a high-top, will set you back $220–which, let's be honest, is a steal compared to other celebrity sneaker collaborations–and comes in olive, white or gray.
The Parallel features a thick, white sole, and mirrors the look of a boot in sneaker form. It comes in leather and suede.
According to Adam Petrick, Puma's global director of brand and marketing, The Weeknd had a clear vision of what he wanted the sneaker to be.
He had a strong idea about what footwear should look like if it was put through The Weeknd's filter,
Petrick told Footwear News. The shoe will officially be released on August 24 with select retailers, such as Barney's.
Now, we wait to see which color Pope Francis and Barak Obama might opt for.
Photos courtesy of Google