Are you planning to bulk up and show off your muscle gains? Want to be a lean and mean muscle machine? Then we got your back (and biceps, triceps and other muscle groups) covered. Bodybuilding is not just about going all out on weightlifting and curling, but also about rest and proper nutrition. We would talk about how important details of how your body works and how to make and execute a great strategic action plan to get your desired body as efficiently as possible. Here are 7 immensely useful things to know about not just muscles, but bodybuilding itself.
1. Oatmeal and eggs are a bodybuilder's best friend.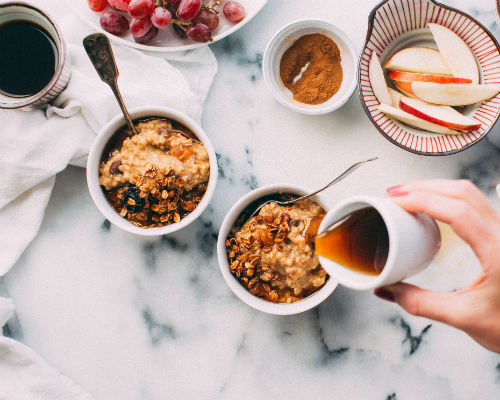 They say that abs are made in the kitchen, the but that is not the whole story. Even your muscles, your swelling biceps, and wonderful glutes are also made in the kitchen. Eggs are known for containing a lot of protein. Protein is actually the main factor as to why you are making or retaining muscle. The science behind making muscle is that whenever you do some workout exercises, you tear up some of those muscles. Your body will then use amino acids, which comes from protein, to not only repair and create but also sustain your muscles.
Now how does oatmeal come to play? A lot of people do not know that oatmeal actually has a decent amount of protein. The great thing about oatmeal is not only its protein content but also that it has high energy, low amounts of fat and basically all-around richness in nutrients. That is why oatmeal and eggs will help you in your bodybuilding journey.
2. Master or at least be educated not only about biology but also the physics of bodybuilding.

If you think that those hulking muscle giants who bench press and lift weights do so just because of their strength, then you are mistaken. There are a lot of factors that affect how effective your workout is. For instance, proper positioning of the feet is a big help in carrying more weight then what you can previously do. This helps in building not only muscle but also endurance and strength. Tips and techniques for bodybuilding is a very deep and important topic that needs to have its own article. There are a lot of myths and urban legends about working out have to be addressed because they give misinformation, and any kind of wrong information about your body can be quite risky.
3. Weightlifting is best served with a side dish of cardio.

One great way to continue getting a great improvement in getting the body you desire is not only by focusing on weightlifting but also by doing some cardio exercises. Starting with a good cardio exercise before you start lifting weights has proven to be beneficial. This is because you are already transitioning your body to change into a more conducive mood to exercise.
4. Variety is the spice of life and of working out too.

This is related to the previous fact. Concentrating on one muscle group will not only make you look weird but it also has unwanted effects on your muscle strength. Focusing too much on, let us say the biceps, after maximizing what the supporting muscle group, i.e. the triceps, can support, you will reach what we call a muscle ceiling, wherein it will take more exercise, time and nutrition to improve that muscle group.
5. Muscles need rest too.

The short rest after your workout is not just for you to catch your breath but is actually for your muscles to rest. Due to you tearing up some muscle fibers, your body needs to regenerate. The new muscles are now stronger than the previous ones, which leads to not only bulging biceps but also a great healthy overall physique.
6. Ease into and out of the workout.

There is a reason why warming up and cooling down are important. Sudden changes in intensity for exercises is dangerous to your muscles since the fibers may tear up right away. By starting and ending with a lower intensity than the middle portion of your exercises, you are telling your body that you are about to rest and that the repair of the muscles should start after some time.
7. Hitting an exercise ceiling is common and expected.

Working out starts out simple but not easy. After some time, it will get easier but more complex.
You may, or even should start off with a simpler exercise like weight lifting and squats. These are simple to understand but your body may not be acquainted or familiar with the new motions. After some time, your body will be accustomed to the exercise and you may hit a plateau in gaining muscle. This is because the exercises are now too simple for your body and you have to do more complex exercises. This is where getting into more complex routines, like "boxercise" or CrossFit will be recommended.
With those 7 facts in mind, you should be able to get achieve your body goals. Getting a support group will also help you further. At the end of the day, the only one who can make you get the body you deserve is just you.