Ties are must have in business, but the right one can say oodles about your personality as well as your status. A quality tie will run you between $100 to $195 depending on where you shop. I like Thom Browne wool ties, but Tom Ford has an excellent selection too.
The necktie has a history dating back to the Roman soldier, whether it was a part of a uniform or as a symbol of belonging to a particular group. Some other forms of neckwear outside the scarf for warmth can be traced intermittently through many centuries.
The modern necktie can be traced back to around 1860, however, in 1926 New York tie maker, Jesse Langsdorf, revolutionized the tie by cutting the fabric on the bias and sewing it into three segments. This technique improved elasticity and enabled the light fabric to return to its original shape. Since then, the "Langsdorf" tie has been the standard.
Variants include the ascot tie, bow tie, bolo tie, zipper tie, cravat and clip-on tie. The modern necktie, ascot, and bow tie are descended from the cravat.
The first rule is NO CLIP ON TIES. Clip-ons are reserved for toddlers up to 5 years old. After that, you should have been taught how to tie a tie. The bolo tie also known as a western tie is not going to work for business – maybe a hay ride or a country music festival. Modern cravats are worn under the shirt and should be reserved for a night at the opera.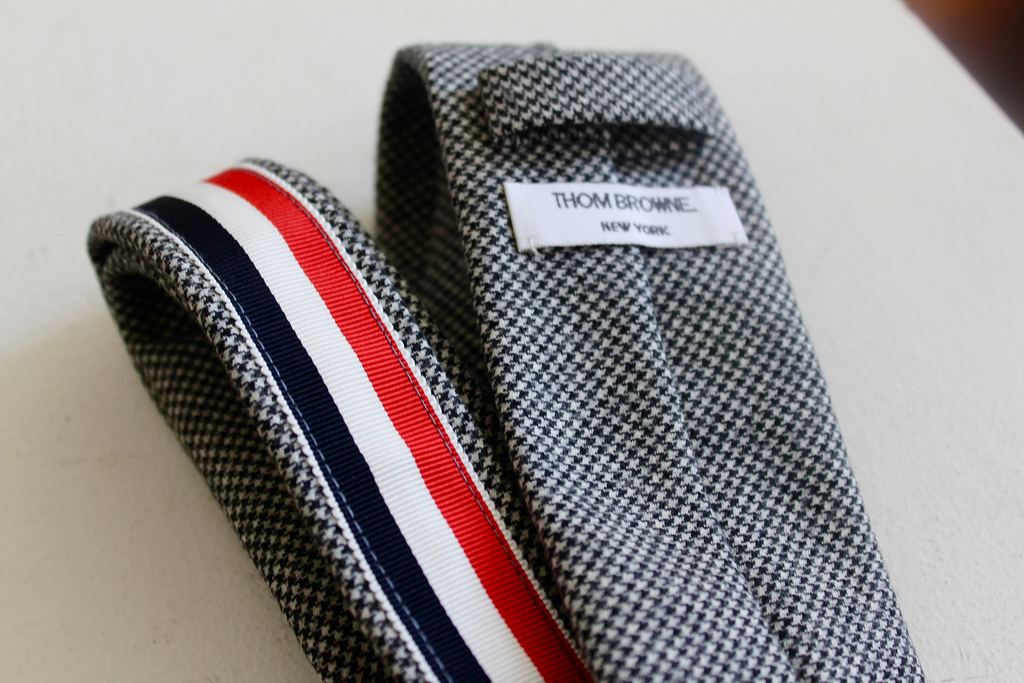 Neckties have seen quite a few width and length changes over the years. However, for at least the past seven decades, the rules have pretty much stayed the same. Ties should hang to the buckle on your belt – no longer, no shorter. Widths vary depending on personal preference, but also on lapel width – no thinner than one inch and no wider than three and a half.
Skinny ties gained popularity in the 50's and the 60's with the arrival of the Beatles and The Rolling Stones and are 2 1/2 inches wide. Skinny ties are currently enjoying a resurgence in popularity. Neckties are unsized but are available in a longer size for taller men. Ties should be made from 100% silk, wool or linen – never polyester. Pocket squares are an optional cousin to the tie, but when pairing the two, avoid matching.
According to author Thomas Fink, there are 85 ways to tie a tie, but there are only three basic knots every man should master. The 4 in hand knot is probably the most common and is perfectly acceptable for business – its what I use. The half Windsor is a bit thicker, and the full Windsor takes several steps and is the thickest knot of all. Charts or videos are abundant to learn the three techniques.
If you thought the bow tie was just for nerds and weddings, think again. It is one of those things you don't see every day, but when you do, it will always start a conversation. Recently, for those of us who don't mind making a statement, the bow tie is back in vogue. We get extra fashion forward by pairing it with a pair of distressed jeans; however, a jacket is required.
The history of the bow tie goes something like this. Croatian mercenaries first adopted these during the Prussian wars of the 17th century, but not for a fashion statement. They were used to hold the opening of their shirts together. It wasn't until the 18th century that the French elite upper class began sporting the bow ties for fashion reasons. Originally they were worn under the collar and were referred to as cravats.
There are only a couple rules to wearing a bow tie. First, no pre-tied bow ties. If you need to watch a YouTube video on how to tie a bow tie several times, it's worth the effort. No novelty ties. I know it's Christmas, but do not wear a Santa bow tie. It's just wrong and incredibly tacky.