Having a salad is one of the easiest ways to get your dose of greens. At one point or another, we really need to get healthier, and salads are a great fix for that. They're easy to make and easier to consume, but here's the problem: preparing them can be tiring. Good salads, the more flavorful ones, might feel like it will take you forever to make them. But don't fret because we have some delicious salad recipes that were made in consideration of your busy schedule. You just need to set aside 15 minutes and, voila, you have healthy food ready for you to consume.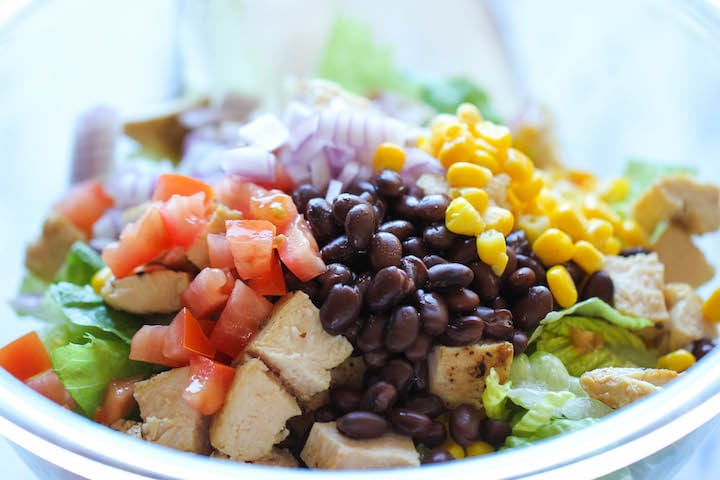 BBQ chicken salad
It takes only 15 minutes to prepare this super easy dish. It's packed with so much flavor you might even forget that you're eating a salad.
Serving size: 4
What you'll need:
1 tablespoon olive oil
2 boneless, skinless thinly sliced chicken breasts
Kosher salt and freshly ground black pepper, to taste
6 cups chopped romaine lettuce
1 Roma tomato, diced
3/4 cup canned corn kernels, drained
3/4 cup canned black beans, drained and rinsed
1/4 cup diced red onion
1/4 cup shredded Monterey Jack cheese
1/2 cup shredded cheddar cheese
1/4 cup Ranch Dressing
1/4 cup BBQ sauce
1/4 cup tortilla strips
What to do:
Heat olive oil in a medium skillet.
Season your chicken with salt and pepper and then add it to the skillet. Flip it over once and wait until it cooks through.
Once cooked, let it cool and slice into bite-sized pieces.
Assemble salad by placing all the ingredients in a large bowl. Pour over Ranch Dressing and BBQ sauce and then gently toss.
Serve with tortilla strips.
Honey dijon apple bacon cranberry salad
If you're a sweet tooth, this salad is perfect for you. It's savory but has hints of sweetness, which makes it feel like you're eating more of a dessert than your usual salad. Also, this salad will remind you so much of Thanksgiving (you can even do it on the next one).
Serving size: 4
What you need:
Salad
4-6 cups baby spinach or mixed salad leaves, including spinach
1/2 cup dried cranberries
1/2 cup crushed walnuts
1/3 cup Danish feta cheese
1/2 sweet red apple, sliced
1/2 granny smith apple, sliced
4 slices bacon, cooked and sliced or chopped
Dressing
4 tablespoons olive oil
3 tablespoons honey
1 tablespoon apple cider vinegar
3-4 teaspoons Dijon mustard
What to do:
Toss all ingredients in a large bowl.
Combine dressing ingredients in a small bowl and mix well.
Pour over dressing.
Crunchy Thai peanut and quinoa salad (Vegan)
If you want some Asian twist in your salad then this one's for you. It has a lot of great textures and interesting flavors that will definitely shake things up from your usual lettuce and dressing.
Serving size: 4
What you'll need:
Salad
3/4 cup uncooked quinoa/millet
1 1/2 cups of water
2 cups shredded purple cabbage
1 cup grated carrot
1 cup thinly sliced snow peas or sugar snap peas
1/2 cup chopped cilantro
1/4 cup thinly sliced green onion
1/4 cup chopped, roasted and salted peanuts, for garnish
Peanut sauce
1/4 cup smooth peanut butter
3 tablespoons reduced-sodium tamari or soy sauce
1 tablespoon maple syrup or honey
1 tablespoon rice vinegar
1 teaspoon toasted sesame oil
1 teaspoon grated fresh ginger
1/2 lime, juiced (about 1 ½ tablespoon)
Pinch of red pepper flakes
What to do:
Cook the quinoa. Rinse it under running water and place it in a medium-sized pot together with 1 1/2 cups of water. Bring it to a boil over medium heat then reduce to medium-low and let the quinoa simmer until all water is absorbed. Remove it from the heat and let it rest for five minutes.
Prepare the peanut sauce by whisking together the peanut butter and tamari sauce until it's smooth. Add remaining ingredients until everything is incorporated. If the sauce is too thick, whisk it with a little bit of water.
In a large bowl, toss your cooked quinoa, shredded cabbage, carrot, snow peas, cilantro, and green onion. Pour your peanut sauce and toss.
Avocado chickpea tuna salad
This healthy and filling salad is perfect for lunch and dinner. And if you're a fan of avocado then you are in for a treat. This is also a great meal for those who are looking into packing their proteins.
Serving size: 4
What you need:
Salad
15 ounces (425 grams) tuna, canned in brine or olive oil
14 ounces (400 grams) canned chickpeas, drained
2 large avocados, peeled and pitted
2 large vine-ripened tomatoes, cut into wedges
1 large cucumber, halved lengthways and sliced
1/2 of a red onion, sliced thinly
Dressing
1/4 cup olive oil
2 tablespoons freshly squeezed lemon juice
1 tablespoon fresh chopped parsley (plus extra to serve)
1 teaspoon minced garlic (or 1 large garlic clove, minced)
1/4 teaspoon salt
What to do:
Whisk together dressing in a small bowl or container.
Place all ingredients in a large bowl, mix, and pour dressing.
Serve.
Big mac salad (low-carb, gluten-free)
It's like eating a burger… but healthier! This salad is not only packed with flavor but it's also low-carb and gluten-free. Can it be any more perfect?
Serving size: 4
What you need:
Salad
1 pound ground beef
1 teaspoon sea salt
1/4 teaspoon black pepper
8 ounces romaine lettuce (or iceberg if desired)
1 cup tomatoes, chopped
3/4 cup cheddar cheese, shredded
1/2 cup pickles, diced
Dressing
1/2 cup mayonnaise
2 tablespoons pickles, diced
2 teaspoons mustard
1 teaspoon white vinegar
1/2 teaspoon smoked paprika
1 1/2 tablespoons powdered erythritol or any sweetener of choice; adjust to taste
What to do:
Cook ground beef in a skillet over high heat. Season with sea salt and black pepper. Stir fry until the beef is browned and moisture has evaporated.
Puree the dressing ingredients in a blender or food processor. Set aside.
Combine all salad ingredients in a large bowl, add ground beef, and pour dressing. Toss it all together. Serve.
Sources:
BBQ chicken salad
Crunchy Thai peanut & quinoa salad
Honey dijon apple bacon cranberry salad
Avocado chickpea tuna salad
Big mac salad