40 isn't considered "old" anymore. We need only look to Hollywood. As box office stars get older, their net worth increases. Liam Neeson is 65 and enjoying the most successful run of his career. The same thing goes for Harrison Ford who's 75. Besides, there's just something about salt and pepper hair that adds a distinct aura to a man's look. Now that you've reached this milestone, the way you dress needs to change ever so slightly not to appear like you're trying to look younger.
The way you dress says loads about your personality as well as your social and economic status. If you are new to fashion and just need the basics, continue reading. The first thing you need to do is develop your style. In other words, what aesthetic would you like to present to the world? Are you conservative, preppy, fashion-forward or somewhere in between? No matter which category you fall into, the following items are essential in your starter wardrobe.
First and foremost, invest in a high-quality single-breasted navy blue suit with notch lapels. Make sure it is 100% worsted wool. Cuffs are optional, but they do add weight to your slacks. If you are on the thinner side, go with flat front slacks, if you're heavier do pleats. Side vents on the jacket are going to be more functional than a single vent. Keep the front pockets sewn up as these are decorative, not functional, and over time they will stretch out and look sloppy if used. The beauty of the navy blue suit is it's versatile as you can pair the jacket with every colored slack except black. Same with the pants – mix them with patterned sports coats. Personally, I only wear the ensemble as a suit when attending a business meeting.
A navy blazer with metal buttons is another item you're going to want to invest in. The reason you want this in addition to the suit is, the blazer can be dressed down or up. Again, only wool with notch lapels and side vents. These jackets usually come with patch pockets which can be functional but avoid using them too much if you want it to last. Pair this blazer with khakis or chinos and a polo shirt for a casual vibe or wool slacks, shirt and tie for business attire. This will be the most versatile piece of clothing in your closet, guaranteed.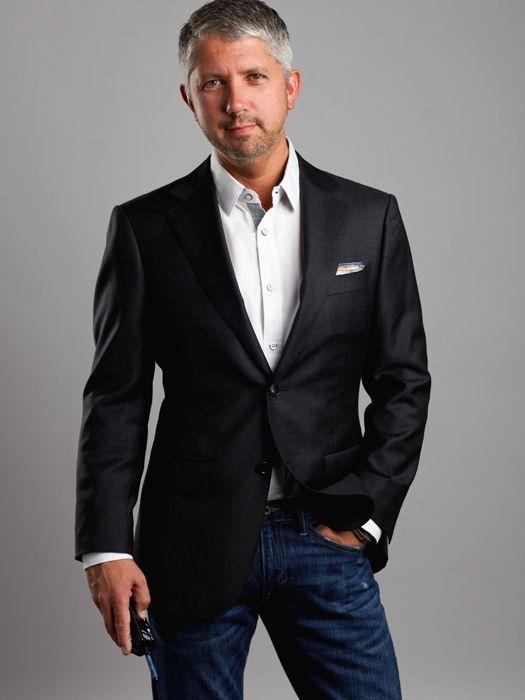 Unless your job requires you wear a suit, consider tweed blazers as an alternative. These are going to be thicker jackets that will keep you warm in the winter. Pattern blazers should only be worn with solid color trousers and vs. versa. Choose from such patterns as herringbone, windowpane, and glen plaid. I would recommend purchasing two for starters.
While you can pair your navy suit pants with everything in your closet, you're going to want to invest in a couple more pairs starting with grey flannel. Grey can be worn with multiple colors including brown, blue and black. Patterned slacks add a rich texture your thighs and legs. Cuff your dress slacks for a beefier and bolder overall look. Chinos and khakis are going to be great for casual Friday, but these cotton pants also work with Monday thru Thursday wear depending on your office environment. Linen slacks should be reserved for resort and weekend wear.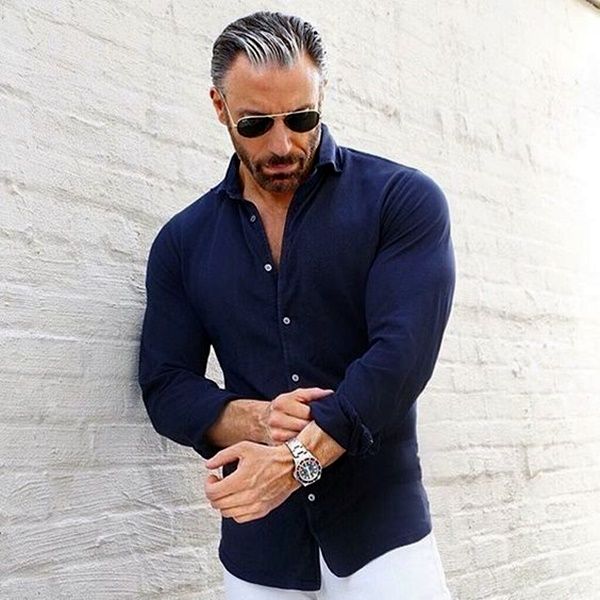 Your go-to shirts are going to consist of three basics – the white spread collar, the blue with button down collar and the off-white or eggshell shirt. The white shirt should be poplin cotton with no pattern. This is great for business, and the spread collar can accommodate both neckties as well as bow ties. You should have these pressed with a hint of starch for a crisp look. Choose barrel cuffs for a less formal atmosphere and French cuffs for a dressier occasion. The blue button down can be worn with or without a tie and can be paired with wool or cotton pants. Again, you're going to want to stick with cotton for breathability, but thick cloth cotton is going to be a bit more appropriate. Because the eggshell-colored shirt isn't as striking as the plain white, it can be worn with everything in your wardrobe. A beautiful herringbone or a small pattern will set this shirt apart.
Finally, the accessories can make your clothing pop. Neckwear should be colorful, but not loud or ostentatious. Pocket squares are optional, but they do add an aura of sophistication to your suit. Do not buy matching sets. Instead, mix it up, but stay in the same color family. Belts should match your shoes and not be over 1 inch wide.
Now that we have the basics covered feel free to start adding pieces that suit your personality, your style, and your budget. Remember, you can never go wrong when you stick with classics, so unless you're feeling adventurous, keep it simple.