When I received an email from Nordstrom announcing their new Fitbit, that was when I became interested in a high tech watch, for the first time. The Fitbit has become the most popular wearable tech item in modern history – possibly because they are unobtrusive. And while first generations had the appeal of a 1977 digital watch, the newer models are a bit more stylish.
The new Fitbit Iconic features dynamic personal coaching, an onboard GPS, and continuous heart-rate monitoring. The high tech watch can store and play more than 300 songs, access popular apps and the PurePulse® heart-rate tracker makes your workouts more complete. Plus, the battery will last you 4 days. Wow, I know, right?
In addition, the Iconic is waterproof, has built-in NFC chip for payments, sleep-cycle tracking, personalized guided-breathing sessions, high-resolution touchscreen display, wirelessly syncs to computers and other devices, multi-Sport+ Smarttrack settings to track specific workouts and reminders to move. Even the Jetson's couldn't have predicted all the features on this 21st-century watch.
While the Fitbit Iconic is destined to sell out, the Apple Watch has a segment of the market that probably won't budge. Apple loyalist like the fact that all their items work in synchronization.
The Fitbit Iconic will set you back roughly $300 compared to $600 for the Apple, but you can get the Series 2 for as little as $121.99. Besides, with comparable features, if your Inspector Gadget watch will be the only timepiece you'll be wearing, Apple has a ton of stylish options to choose from – which should be important to you.
If you're a label snob, never fear. Lots of designers have hopped the tech train including Michael Kors and Kate Spade.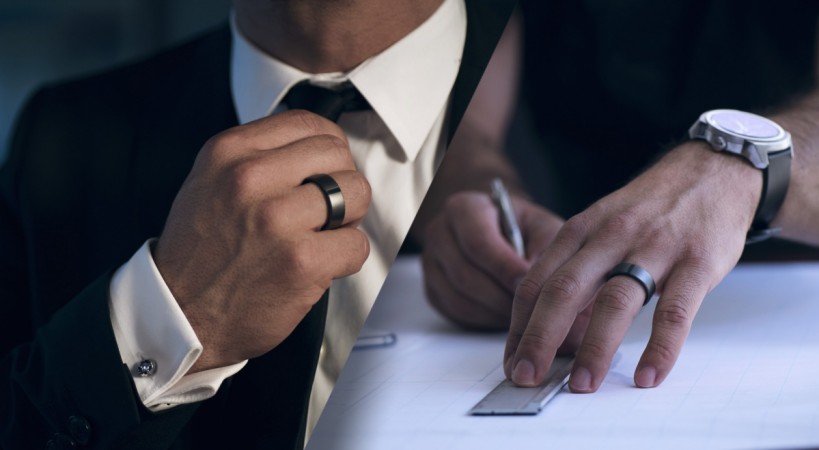 But if you thought wearable tech stopped on your wrist, think again. You've probably heard of the creepy invention of Google Glass. These high tech specs feature a touchpad which is located on the side of the glasses which allows users to control the device by swiping through a timeline-like interface displayed on the screen. Sliding backward shows current events, such as weather, and sliding forward shows past events, such as phone calls and photos.
Google Glass got a controversial reputation because it has the ability to take photos and record 720p HD video with a built-in camera. While the prototype and early versions were a bit Clockwork Orange-ish, newer models are worth a second look as they have caught up with the luxury market – fashionista's want to record hands-free cat videos too.
It is completely acceptable for men to wear bracelets – I've worn an Armani chain bracelet for a decade and I wear a couple of beaded bracelets when the feeling suits me. Now you can be stylish and techie at the same time. While there are several sporty options including the Nike Fuelband, Jawbone UP, Sony SmartBand, and Garmin Vivofit, if style is first on your mind, you should get the WiseWear Calder Palladium-Plated Smart bracelet. Concealed under its chunky masculine exterior you get GPS tracking function, distress messaging, mobile notifications, activity tracking, and Bluetooth connectivity.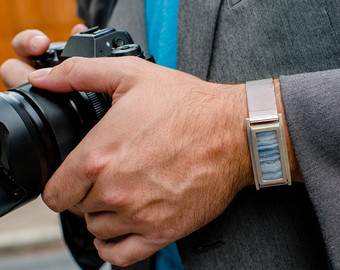 I have a pretty nice collection of rings. My favorite is my onyx wedding band which I still wear on my right hand since the divorce. If I were to get hitched a third time, I'd definitely consider a smart ring. MOTIV has a stylish ring available in rose gold and slate grey for preorder at just $199. While gym rats will love the fitness, heart rate and sleep tracking functions, the Bluetooth syncing allow text alerts while GPS tracking and distress alerts give the casual wearer peace of mind.
The jean jacket should be a staple in your casual closet. I have one which I wear often and so should you. If you haven't invested in one yet, you might want to spend a little extra for Levi's Commuter x Jacquard by Google Trucker Jacket. This coat is a piece of wearable technology, really.
Conductive yarn is weaved into the left cuff enabling touch interactivity so users can tap, swipe or hold to do simple tasks such as changing music tracks, answering calls or accessing navigation information. And no one would ever guess you were wearing a piece of tech unless you told them and you will.