Dr. Alex Rubinov, DDS joined Manhattan's leading dental office, 425 Madison Ave, alongside Dr. Michael Kraus- globally renowned cosmetic dentist in NYC.
Rubinov brings his pedigree, expertise, fresh perspective and integrative techniques to enhance this incredible practice.
---
AM: You have quite the impressive resume, studying at both Columbia and Mount Sinai. Are there any instructors you had that you look up to or aspire to be like?
Alex: I had a professor who really believed in me. Dr. Mirsky insisted that if I didn't spearhead the founding of the Aesthetics organization at Columbia University, no one would. At the end of my 3rd year, I had just ended my term as president of a large student organization and thought I would focus more on building my clinical skills.
But I couldn't back down from his challenge, I love to stay active and busy. It ended up being the smartest decision I made because it allowed me to invite NYC's top cosmetic dentists to speak at Columbia and foster relationships that would help me grow in the future. The aesthetics organization became the most active organization at the College of Dental Medicine and is still a key institution to this day.
AM: You come from a long line of dentists; your father and grandfather were both well-known in Russia. Did you always want to become a dentist, or did you ever think you'd be doing anything else?
Alex: When I was younger, my father would bring my brother and me to his office on Saturdays while he worked. I ran around the office greeting patients while my brother sat in his office reading books. He's currently a Ph.D. candidate at Princeton and I am treating patients I met when I was 8-years old. I knew I wanted to help people but I also loved the idea of owning my own business.

Photo by Marcus Derricotte
AM: Your practice has an integrative approach to dentistry, how does that compare to what some of your peers are doing?
Alex: I have a passion for cosmetic and implant dentistry, so I maintain high-end 3D capabilities for complex surgeries, as well as access to the best ceramicists in the world. Fortunately, my drive and passion have allowed me to not only master these skills and relationships but also lecture on these topics to dentists around the country. However, what I think really sets me apart is my genuine passion for helping people. That energy comes through and my patients hold a deep trust in me!
AM: Doctor Rubinov, you state that "porcelain veneers are the contact lens of the eye" what does that mean exactly?
Alex: A porcelain veneer is a thin shell of porcelain that goes over the front surface of the tooth. Veneers, if done correctly, can be a minimally invasive procedure keeping the strongest part of the tooth intact: the enamel. So it's small changes that make a huge difference in your appearance.
AM: What's something about oral hygiene that should be common knowledge but isn't?
Alex: You need to use a tongue scraper daily to minimize bacterial colonies that cause bad breath. Your morning routine should be to brush your teeth, leave some foam in your mouth while you brush your tongue, and gently scrape. Then start your day with a glass of water and a hearty breakfast.
AM: Do you ever have clients who are afraid of the dentist? What do you do to soothe their nerves?
Alex: Dental phobia is extremely common and it should be approached two ways and in this order. First, develop a relaxed and happy environment to minimize stress and anxiety. Secondly, if necessary, I provide a medicinal approach with anxiolytics, nitrous oxide, and even twilight dentistry. We have a board-certified anesthesiologist who administers controlled IV sedation to ease patients into a state of complete relaxation.
AM: Do you feel that your background in ceramic fine arts gives you a better grasp of how a person's smile affects their entire face?
One of my artistic mentors, Paul Chaleff, who has his work on display at the MOMA, instilled in me a mantra that I always reflect on: "are you creating beauty or perfection?" When designing a smile my vision is to create the most beautiful version of you. This means incorporating minor imperfections that compliment your facial features, complexion, and shape.
As an avid outdoor enthusiast, I want to mimic nature and create smiles that make you look and feel amazing. My goal is to give you a smile that looks like the true you.
AM: When you are at work, do you wear scrubs or are you in a suit?
Alex: I wear both, at once! Actually, I wear a combination of the two depending on the procedure. Typically I wear a lab coat over a shirt and tie. However, if I am performing surgery I prefer to wear scrubs. I like to think of my self like Clark Kent, able to leap into action at any moment.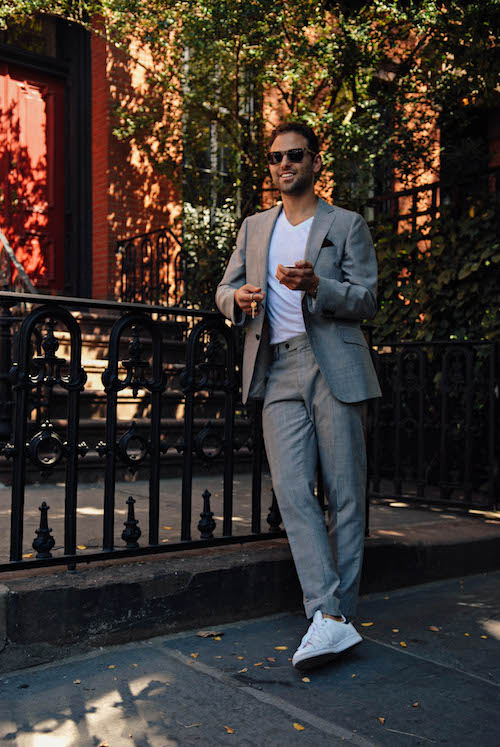 Photo by Marcus Derricotte
AM: What about shoes? I'm sure being on your feet all day could get pretty uncomfortable. What's your go-to for a functional yet fashionable shoe?
Alex: I feel most comfortable in Cole Haan shoes because they took notes from Nike's playbook. They combined comfortable insoles with soft Italian leather uppers. This keeps me going all day – until I put my running shoes on for an evening run.
AM: I hear you are a big fan of suits. Do you go for the three button or the two button? Do you ever dabble in the double-breasted?
Alex: My favorite manager at Suit Supply, Bertram, convinced me to get a double-breasted suit with peak lapels. At first, I was resistant but now that is probably one of my favorite suits, for the right occasion. I typically wear a two-button suit and only button the top button. When you sit down to make sure to always unbutton your suit so it doesn't look crumbled.
AM: In your opinion, who makes the best suit?
Alex: I enjoy custom suits from Suit Supply because their cuts of great Italian fabrics form to my body style best. It's as if their seamstress was born to sow for me.
AM: In addition to being the preferred dentist for Elite Model Management, you also do work in underserved parts of New York and have even traveled to countries such as Cambodia to perform dental surgery. What are some of the challenges that come with working in a remote area such as that?
Alex: I think giving back is one of the most rewarding parts of being a medical professional. We have real skills that can help people in need. Continuity of care always makes for better results. I have worked with KIDS Dental Services where we go back to the same under-developed areas to make sure children continue to receive the dental care they deserve.
AM: Do you have a favorite story from your time traveling overseas?
Alex: Life is about accumulating little pieces of a puzzle that help create your total picture. It was eye-opening for me to perform dental surgery on the desk of children in their school in Cambodia. There was one boy in particular that I had to remove a badly infected tooth while I was working at a school desk. Because verbal communication was limited, he opened the desk that we had just performed the procedure on and gifted me a paper plane he had made in class that week. You don't need words to feel that token of love and appreciation.
AM: What's the best advice you can give that every man can use to better their oral hygiene?
Alex: Drink lots of water to help rid yourself of bad breath and keep stains off your teeth when you eat or drink. And don't be shy about flashing your pearly whites because it helps you be more relatable to peers and colleagues while presenting the best version of you.