Wearing neckties is impacting the personality of the wearer. It might be challenging for some, however, many people still wear them due to several reasons they have. It is not just simply wearing them because you just like it and because it is trending. It should be worn according to the event you need to attend or it depends on the place where you need to go.
Here are some reasons why you need to wear a tie
Wearing a tie let you earn respect from everybody without the effort to become respectable. It is more than just a decoration or a fashion accessory, but it brings this value anyone aims to have. A colorful silk tie demands respect and lets you get noticed.
We are just used to seeing gentlemen wearing a tie when attending a board meeting and looking at them commands us to judge them as a person with dignity and pride.
It also makes you look more professional. Although you had been working in a corporate world, you would look great of your co-employees see you wear a tie. Even if you are not the boss of the company or you are not required to wear it, you easily get noticed by your colleagues. It enhances your poise which makes you look like a man with pride.
Wearing a tie can boost your self-esteem. As soon as you earn respect from your colleagues, you also feel the confidence to walk around. Self-confidence is an essential part of our lives and this usually leads us to gain happiness and acquaintances. You will start to enjoy the happenings all around and that would help you to be better because you feel that everybody would listen as soon as you speak.
Wearing a tie emphasize your fashion sense.
If you are a person who loves styles and unusual designs, then you most probably love fashion. It makes you look smart because it adds an elegant look to your appeal. It makes you lined with sophisticated men with strict choices of what to wear even in simple events.
Ties are never lost in fashion trend list. Whether you are going to pair them with a casual wear or formal attire, it has still its own distinguishable value. Fashion designers nowadays would make different twists in styles and designs of matching them with different attire, but they still promote one thing and that is wearing a tie is always hit.
They promote a sense of fashion in a different way because they could be mixed and matched with various attire that comes out in trend. They are classic but has a different approach to the fashion world.
Neckties have long been part of the trend no matter there is a new fashion that comes out from time to time. Its classic and timeless style is unbeatable and it still stands out in today's generation. They are able to take men to the next level and enhances their personality as well.
We have collected the best tie designs that are mostly worn by men to give you an idea which one best fits the trend.
Anchor Prints
Cool and classic style anchor prints are usually worn in the corporate world. They are simple yet elegant and they can also be paired with casual shirts. This minimal design still stands most especially when worn over a plain colored shirt and suit. It does not need to have an exaggerating pattern just for you to get noticed wearing this one.

Checkered Woven Silk Tie
This stunning silk tie has a rich color and a crisp shape that makes you look like a millionaire. It is pleasing to the eyes as it shows a color combination of navy blue, light blue, and white. Not typically the loud color but brings a different look and feel to the observer.

Solid red colored tie
This is best to pair with different colors of suit and shirt such as black, navy blue, and many other dark colors. Known as the "power tie," they bring a dominating look to the wearer. They are common yet most people prefer to wear it because it can be paired with a large variety of shirt and suit colors.

Small dotted tie
A brown necktie printed with small white dots is a classic design where most corporate business's love to wear. It signifies elegance and dependability at work. Someone can expect a work done efficiently through the personality it conveys. Aside from brown color, you may also opt for blue, green, and black that best match with dark colored suits and shirts.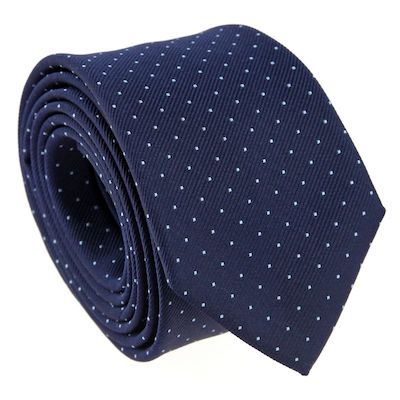 Aside from these designs, men's tie fashion also emphasizes the importance of proper length. Make sure the tip of the wedge of the tie touches the center of your belt buckle. This is the appropriate size no matter what size of the body you have.
Moreover, silk ties are preferable than wool fabrics. They appear to be more formal and stunning because they emphasize the color and patterns of the ties.
No matter you wear a designer and popular brand of a tie, you still need to consider if its style and design fit your skin complexion and attire. Nowadays, loud and exaggerating colors are not commonly worn. Most men preferred wearing a solid and simple tie but still able to enhance the appeal of the wearer.
The fashion industry changes their theme most of the time. The same goes for a tie. If the fashion industry promotes monochromatic or earth colors, the tie also uses the same colors so they blend well with the latest choices of men. Several years ago, most men preferred dark colors and black. Nowadays, men are even wearing pink and chic colors.
Some people may find them difficult to wear, but with such benefits it offers, they would surely choose to feel the difficulty than never have the advantages it provides. It makes you look great and dominating.
Find a fashion accessory that would make you look respected and dignified and neckties would be the first preference. Forever Tie has a new necktie product on the market, allowing the user to never have to learn how to tie a necktie. Forever Tie comes with one necktie and two knots allowing the wearer to choose what style knot they want to wear.
Getting the perfect knot, perfect length every time. use code activeman17 at checkout for 15% off