Look, we already know you're using, have used, or will use a dating app at some point. Poplar dating app Tinder has over 50 Million active users with roughly 12 million matches made everyday, so odds are you're soon to be one of them. Whether you're still doing your fling thing, or looking for miss right, I'm here to help you avoid some common pitfalls.
She answered! You've successfully expressed your interest in her, and she's returned the favor. You're doing great so far, but you'd be surprised how easily you can fumble this situation before you ever meet this gal. It can be tough knowing what to say or what not to say when you're all giddy (see: Excited if you're too manly for "giddy") before a first date, but I've got your back with some do's and don'ts.
Right After The Response
There are a myriad of responses you could be sitting there staring at, ranging from straightforward all the way down to just above aggressively disinterested, but regardless of her range of interest:
Don't Try To Be "Sexy"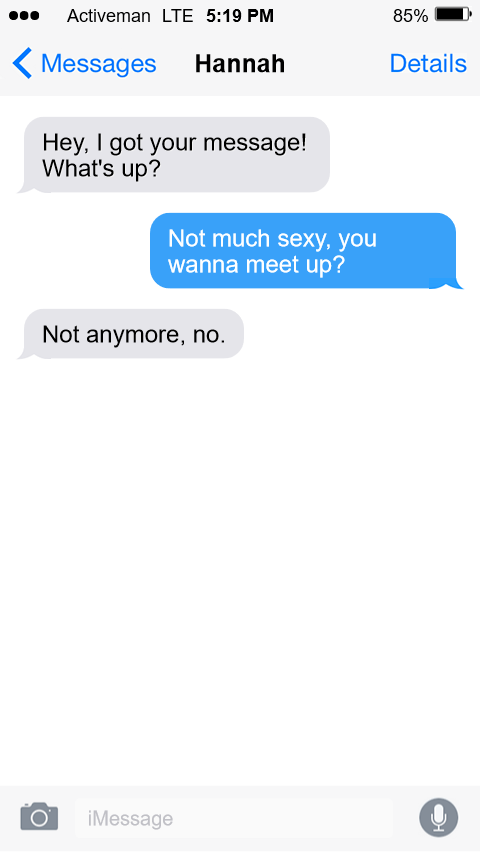 Even if all you're looking for is some casual dating, this almost never works the way you're hoping it will. You don't seem cool, you don't seem forward or confident, you seem like a thirsty jerk. Everytime. You have no idea what her idea of sexy is, so before you try to apply your impressive hookup lingo to the situation get to know what she might think is actually attractive before you employ those tactics.
Do Play It Cool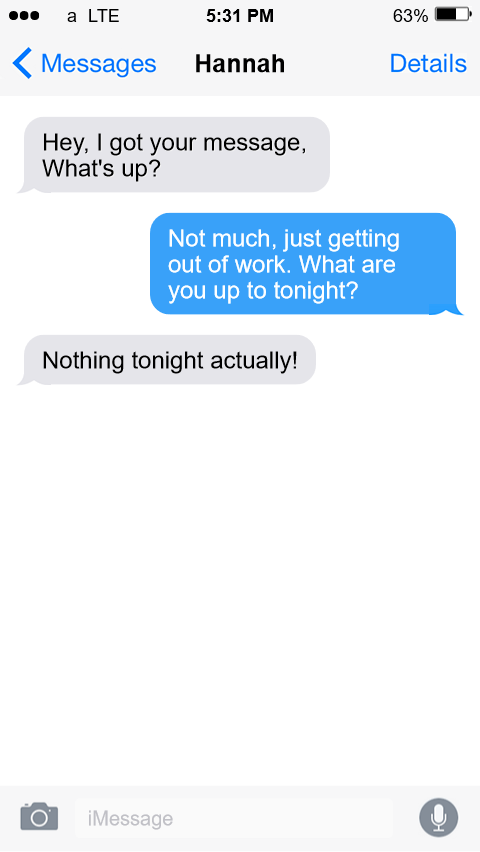 Relax. Romance is a war of attrition in every case that matters. Lead her into a conversation that will convince her you're worth talking to first. We don't have to do the math here, but the odds are she's being sent an absurd amount of messages by comparison, so you're going to need to stand out in a positive way. Convince her you're more interesting than the 233 messages filling up her inbox.
Making Plans
So you've nailed the initial response and you've established a basic rapport with your prospective charmer. Naturally the next step is to meet up with her in person, another place some men colossally screw up without having any idea why.
Don't Give Her An Order
This really should go for making plans with most people, but particularly in your romantic endeavors, don't tell her what to do. Your next couple of exchanges are going to need to be a sort of verbal dance (via text, usually) and if you wouldn't dance by yourself while she watched you flail around on the dance floor like an idiot, then you should treat this the same way.
Do Offer Suggestions
Offer up control of the situation to her while maintaining a strong opinion of what you should do next. There's a pretty distinct possibility she'll be okay with whatever you suggest since you've already been talking, and you wouldn't be if she wasn't interested in the first place. You can take her ongoing communication as a certain level of trust she's offering you, so return some by letting her pick the place if she wants to. Whatever you do, don't argue with her about it.
Dress to Impress
The last and possibly most important move. Your clothes don't just say a lot about you, they say absolutely everything about you, and I mean everything. So if you're overthinking your wardrobe, it's clear. If you just popped the tags, it's obvious. It helps to continue looking at this situation via the aforementioned dance metaphor, so like any dance, be methodical, but be yourself.
Don't Like an Armani Exchange Model
I shouldn't have to tell you not to buy clothes just for the first date, but don't do it. Don't assume you know what she'll think is a fresh, cool look. You could always get lucky based on what little you know about her from her profile (and make no mistake, her profile didn't tell you anything about her, in almost every situation) but assume she knows just as little about you, and it's your job to inform her. Don't overthink it. And for god sakes, don't wear anything tight or distressed.
Do Dress like a Uniqlo Model
Well fitted, but unassuming. Casual but thoughtful. You want your look to say "I thought about this outfit, but not too much." You don't actually have to buy your clothes from Uniqlo obviously, but dress to your comfort level, and your confidence will do most of the work for you. Work to impress your date by showing her you already have what it takes to be impressive, not that you bought what you thought it took 15 minutes prior.
You're on your own for the actual date itself. Our very own Connie Tran has compiled some of her own Do's and Don'ts, so check out what she has to say on the subject if you're dating in the 40 or over demographic. Honestly, check it out even if you aren't.
Believe it or not "Be Yourself" is probably some of the best and most difficult advice you can get. Sure, it's harder to do because if you get rejected, your whole sense of self is in turn left feeling… well, rejectable. But like many things, dating is a risk reward situation, so consider how the contrary would feel.
Image Credit: Bruce Mars