Jon Batiste is as well know for his clothing as he is his musical accomplishments. The Juilliard graduate performs with his band Stay Human on Late Night With Stephen Colbert nightly. Like band leading sidekicks before him, most notably Doc Severinson from the Tonight Show with Johnny Carson and Paul Shaffer from David Letterman, Batiste favors bold patterns and exotic prints. According to the multi instrumentalist, fashion is the music of the body. He even offers fashion tips via his Facebook page.
Jon likes to express himself with loud fashion because people see him before they hear him. He believes if you have respect for yourself, that's having respect for everybody else. Batiste dresses for the occasion, and the stage is where he does his statement pieces. His look is traditional with a twist. Like his music, Batiste often pairs things that don't necessarily have the same aesthetic yet complement each other in a way that creates something new.
While Batiste's ostentatious look isn't for everyone, I love it and have been dressing in brightly colored and bold pattern blazers for a few seasons. It's a look that always gets noticed and onlookers compliment me every time I step out.
While this trend is not exactly a new one, we have seen it re-emerge in recent seasons as high-end designers show some boldness with their printed sports blazers. The sports coat has become a staple in menswear since they were first used as sporting attire. Men used to wear these coats for hunting and riding horses, but nowadays they are often a substitute for the suit. Generally more casual than a suit, it can be paired with casual pieces such as turtlenecks and cotton pants. Even jeans and flannel shirts are appropriate accompaniment for these versatile coats.
The printed sports coat can give any outfit the touch of cool. To pull off a printed sports coat, you need to be confident and walk tall. You need to own the look and never be shy. Chances are, the men who might scoff at your fashion statement are going to be jealous that they don't have the gonads to wear something similar. Or they might not have a clue about fashion. Whatever the reason, don't back down.
Here are a few options to pick from:
Alexander McQueen
When choosing a printed sports coat, be sure that you have more than one thing to wear with it. In fact, a printed suit, such as the Alexander McQueen Velvet evening jacket with a poppy pattern has optional matching slacks, which will give you at least two outfits. The burgundy color will play nice with black slacks, distressed jeans or even a pair of black leather pants. Although it is a bit pricey at $2,875, you won't have to worry about showing up in the same outfit as someone else.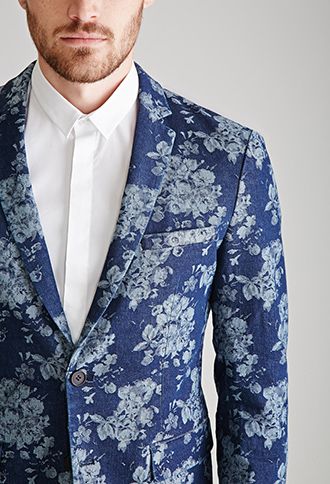 Etro
Paisley has made a comeback in recent history and Etro has a gorgeous blue paisley printed blazer. The jacquard evening jacket features narrow lapels and a two button closure. Eyes will definitely pop at the dinner party when you present the host with a nice Cabernet wearing this very smart jacket. At a mere $1,537, you can buy a pair of high twist wool slacks to accompany it.
Tallia
If you are not willing to pay a month's rent on a blazer, Tallia has a few very stunning paisley printed sports coats to choose from. Pick from tan/gray, brick, gold/navy or multi colored. Also, choose from the peak or notch lapels. Available at Macy's starting at $175 to $350, you will look like a million bucks without spending it.
Robert Graham
Who said camouflage can't be stylish? When you slip on a Robert Graham Albert Bridge Camo-Print blazer in a deep navy, you will silence the critics immediately. These stylish coats come with narrow lapels and a modern two button closure. And at $523.50, you simply can't go wrong.
Saks
Finally, you will be the target of conversation when you show up for cocktails wearing the Leopard-print blazer from Saks. This beautiful blazer comes with a contrasting shawl collar, button cuffs, and dual vents. The sandy color will go nicely with other earth tones. Dress it up or dress it down, it's up to you boss.
Images courtesy of GOOGLE