You know it's time to update your wardrobe with summer fashion essentials for men when the weather warms up and the sun is shining bright. From sunglasses to swimwear, every man needs a few key items to stay cool and comfortable in the heat.
8 Best Summer Fashion Essentials for Men
1. Sunglasses
Sunglasses are a summer fashion must-have because they not only protect your eyes from the sun's harmful UV rays, but they also make you look like a celebrity in disguise. They're like a secret weapon against the summer heat that can instantly transform your outfit from basic to boujee.
2. Sandals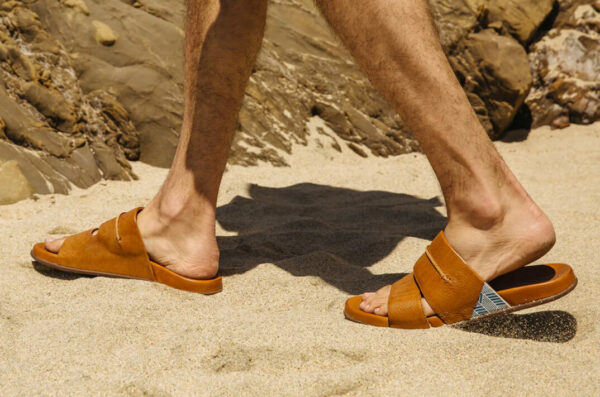 Sandals are on the list of must-have summer fashion essentials for men. By allowing fresh air to circulate, they keep your feet cool and help regulate your body temperature. Closed shoes trap heat, reduce blood flow, and make it more difficult for your body to stay cool. Don't forget to add a stylish pair of sandals to your summer wardrobe.
See also: Men's Fashion Accessories: 10 Easy Ways To Style Your Same Old Boring Outfits
3. Lightweight T-shirts
Summer fashion essentials for men include lightweight t-shirts. They keep you cool and comfortable in hot weather. Cotton is an excellent choice due to its lightweight, breathable, and absorbent properties. However, other fabrics, such as linen or rayon, work well in the summer. Lightweight t-shirts are versatile and can be dressed up or down, with a variety of colors, prints, and styles to choose from.
4. Tote Bag
A tote bag is also a practical and stylish summer fashion essential for men. It's the ideal solution for carrying everything you need without weighing you down or bulging your pockets. Plus, carrying a tote bag is more fashionable than trying to stuff everything into your pockets.
5. Lightweight and Breathable Shorts
Wearing this type of shorts is like a breath of fresh air for your nether regions. Nobody wants to be trapped in a pair of heavy, constricting shorts on a hot summer day. You can keep cool and avoid discomfort by wearing lightweight and breathable shorts. They also come in a variety of fun colors and patterns, letting you show off your personality while staying comfortable in the summer.
6. Sun Protection
Sun protection is also an important part of summer fashion essentials for men. Sunscreen with a high SPF is absolutely necessary to avoid sunburn, premature aging, and skin cancer. There are also SPF-protected moisturizers and lotions that are lightweight and non-greasy. Reapplying sunscreen every two hours is critical, especially if you're swimming or sweating. Plus, sun protection can be stylishly incorporated into your wardrobe, with options such as wide-brimmed hats and UV-blocking sunglasses.
See also: Men's Winter Fashion Guide: 5 Helpful Tips to Stay Warm While Looking Cool
7. Polo Shirts
When it comes to summer fashion essentials for men, the polo shirt is another must-have.The lightweight and breathable fabrics make it ideal for the warmer months, and the collar adds a touch of formality to any outfit. Furthermore, the variety of colors and patterns available means that you will be able to find one that complements your style and personality.
8. Swimwear
Summer wouldn't be complete without a swim in the pool or a day at the beach, and the right swimwear is essential for any man. Whether you prefer swim trunks or board shorts, the right fit and style can make all the difference. Look for swimwear made of quick-drying, lightweight materials that won't weigh you down in the water. Also, choose a style that flatters your body type and fits comfortably without being too tight or too loose.