Spas for men? Yes, please! Men's interest in spa and wellness is rising, and fast.
According to SpaFinder Wellness, just a quarter of a century ago, men made up only 10% of the United States spa/wellness market. Today, that number is 47 percent. Why the increase? Well, in this stressed out world, men realize they need some spa-time too!
Many spas are now offering wellness retreats with the combination of hiking, eating healthy food, body work and wellness classes. It is very attractive to the man who realizes he needs to do something to get on track for his fitness needs.
On our quest to find the best spa vacations for men in the United States, we first had to investigate a variety of them. They are often referred to as wellness retreats, destination spas, hiking spa vacations and health resorts, but it seems "the best spas for men" all have a little of each activity.
We went to our top chosen "spa for men", New Life Hiking Spa in Killington, Vermont to get to the bottom of it because after all, they won the top spot from Spafinder Wellness Travel awards in the "Best for Men" category in 2016 (the last year the award was announced). New Life was started by Jimmy LeSage (one of the men considered a "spa pioneer") in 1978 and it is celebrating the 40th Anniversary this year.
After four decades, New Life Hiking Spa has hiking spa vacations down to a science. They were listed as the #2 destination spa in 2017 and the #1 destination spa by Travel + Leisure Magazine in 2016. Since then, they have been listed as the best place to spend a hiking/fitness weekend by Town & Country Magazine and called a "hiker's paradise" in SELF. It's no wonder people from all over the world come to this retreat in the Green Mountains of Vermont. About 30% of the guests each year are men and many of them come on their own to get their health and fitness on track.
New Life Hiking Spa utilizes a ski hotel in Killington, Vermont during their season. The bustling activity of the skiers and snowboarders come to a halt in the spring and summer months and New Life Hiking Spa moves in to provide its guests with the best hiking the country has to offer at the most beautiful time of the year. What's not to love for the man who wants to say, "I hiked the Appalachian Trial!" No one needs to know you came back to a hotel to get a massage in the afternoon.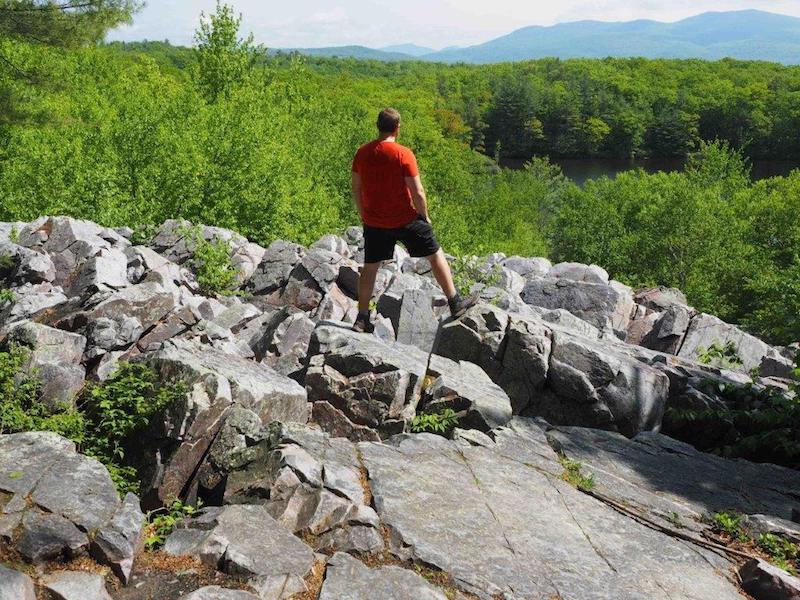 Here is our round-up of "The Best Wellness Spa Vacations for Men for 2018"
Situated in the lush Green Mountains of Vermont since 1978, New Life Hiking Spa is an authentic, affordable, all-inclusive destination spa renowned for its personalized weight loss, wellness and fitness programs. Open each season from mid-May through the beginning of October, New Life reopened for its 40th anniversary at the newly renovated Killington Mountain Lodge.
New Life is one of the oldest and most established destination spas in the U.S. and was named the #1 Travel and Destination Spa in 2016 by "Travel + Leisure" Magazine. It has also won numerous Spafinder "Wellness Travel" awards for fitness, affordability, outdoor adventure and activities, nutrition and healthy cuisine, and yoga, as well as being voted "Best for Men."
The New Life program accommodates up to 55 guests at a time, and each year people travel from around the world to attend 21 night extended wellness vacations, eleven-night weight loss retreats, five-to-ten night jump-start getaways and two-to- four night mini-wellness escapes.
Located in Killington at the Appalachian Trail and Long Trail, New Life offers diverse terrains that will challenge hikers at every level. Because the number of guests is limited, each visitor is able to focus on his or her individual needs with the support of New Life's superb staff, who help guests change eating, exercising and living patterns over time.
Three levels of hiking are offered each day. A nature walk, an intermediate hike and an advanced hike are provided and staffed with expert hiking guides who have extensive knowledge of the Vermont trails. No other destination spa offers the level of guided hikes that New Life Hiking Spa does. The cooler temperatures in Vermont's Green Mountains allow for hiking during the daytime hours. The 2018 dates are May 17 – October 1st.
Surrounded by the stunning coastal landscape at the Monarch Beach Resort in Orange County California, the renowned Miraval Life in Balance Spa offers a luxurious spa experience, including more than 70 of the signature treatments developed at the company's flagship Miraval Resort & Spa and new services featuring California-inspired ingredients. Spa guests are invited to strengthen their mind and body in the yoga studio, learn mindful eating habits, achieve new levels of fitness with a personal trainer and hiking, attend special programs with visiting guest experts, and enjoy lunch in the Spa's garden courtyard. The award-winning Monarch Beach Resort also features beautifully appointed guest rooms and suites, restaurants that showcase the fresh flavors of Southern California and expansive indoor and outdoor meeting spaces.
This health program was launched in 2010 to assist guests in recalibrating a healthy lifestyle through an intensive endurance program emphasizing wellness and nutrition. Choose from a week-long program at the Malibu ranch, or the shorter jump start program hosted at a luxury hotel in Westlake. The Ranch will help you gain physical endurance, shed unwanted pounds, tone up and detoxify in a healthy and sustainable way. Over 200-miles of hiking trails, an open-air kitchen and great room, certified organic farm, exercise and yoga pavilion, outdoor pool and Jacuzzi, and private treatment rooms for massages, further enhance the spectacular surroundings. Guests are in a sequestered environment with no cell and limited wi-fi service available to further aid in a mental detoxification.
Few places on earth match the beauty and tranquility of the red rocks surrounding St. George, Utah. You'll find a vast selection of healthy living activities, dining, spa, and recreational services at Red Mountain Resort, it is a great setting to start or renew health and fitness goals. Offerings include a wide variety of fitness assessments and programs to meet your goals. However you choose to spend your time at Red Mountain, the peace and solitude of the facility, daily fitness activities, guided hiking, healthy gourmet cuisine and an array of wellness classes will set you on the path to lifelong fitness and health.
This resort is located on 72 acres near the historic gold-rush town of Dahlonega, Georgia, in the foothills of the Blue Ridge Mountains, just over an hour and a half north of Atlanta. The fresh air will instantly cure your big-city stress, and the expansive views and nature trails for hiking, 1,200 sf yoga hall, spa treatments and outdoor Jacuzzi will soothe your body and soul. The resort regularly offers yoga classes and retreats perfect for both yoga teachers and serious students who want to deepen their practice and their education.
This spa bridges the gap between health resort, hiking spa and luxury destination spa. Its comprehensive nutritional services include consultations with a registered dietician and tests with a biochemistry focus to identify problems arising from adrenal, thyroid or hormone imbalances, nutritional deficiencies, food sensitivities, and more. The fitness program includes more than 130 different classes and hikes for the beginners to the already fit.
A visit to any one of the above "spas for men" is bound to do your body and your mind wonders! Take a vacation this year to a hiking spa, wellness retreat or destination spa and find out why so many men are heading to the mountains for a spa getaway this year.